Smart Vents – Is It the Best Zoning Method for Your Home?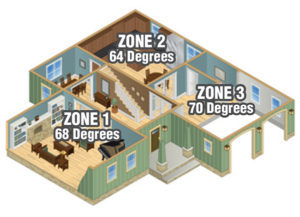 Today, there is an influx of smart home HVAC products all of which promise easy installation, desirable energy efficiency, and seamless integration. Despite these advertising claims, there are lots of smart products and zoning methods outside there which do not deliver as per the expectations.
One of the products which has been praised as an effective zoning method yet discredited by experts in residential heating and cooling is smart vents. This method promotes a simple, but supposedly effective way homeowners can cool or heat unused spaces with lesser energy. They use apps which interface to zone a home and control its cooling or heating accordingly.
The vents have sensors which communicate with one another and detects areas that are in use to redirect air flow.
Why Smart Vents is More of a Myth than an Effective Method
The idea of smart vents seems logical. However, the fact that you have to close your vents in areas that are not used is not professionally advisable. The argument is that closing vents in unused spaces is a direct and obvious method of saving energy. Areas such as dens, bedrooms, guestrooms, and hobby rooms which are not used on a daily basis are the targets for vent closure under this system.
The problem that comes with closing vents is that every home has a design heating and air system that factors in all the vents and rooms in the house. Your heating and cooling system is created to efficiently do its work under the total square footage represented by your house. What this means is that cutting off a room or even more by closing your vents will affect the efficiency of your HVAC system.
When you shut the vents, you restrict heating and cooling in some spaces of your home and this can potentially cause huge problems. When air flow is restricted from exiting through a vent, it bounces back within the duct system. This causes air pressure to buildup in your ductwork thus causing leakages. Conditioned air not able to exit into interior rooms can cause overheating of furnaces and freezing of ACs. The total result of all this is increased discomfort and higher levels of HVAC operating noise.
Therefore, the smart vents of zoning are not effective and instead of conserving energy, it can lead to increased energy consumption.
Recommended Zoning Methods
Instead of closing your vents, you can effectively zone your home through a whole home zoning system. The advantage with this system is that it works with your HVAC equipment instead of working against it as is the case of smart vents.
You can also get the zoning results through traditional zoning systems which have been in use for quite a while to create desired energy savings and comfort. The main objective of zoning methods is to save your money and conserve energy. On average, traditional zoning methods are estimated at saving 30% on annual heating and cooling. Using programmable thermostats, homeowners can start off on their journey to saving energy.