How to Insulate Your Home and Save on Your Energy Bills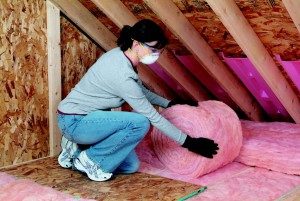 The key role that insulation plays in any home is to prevent heat from escaping. There are several ways you can accomplish this and some of them are pretty simple and cheap. Remember, when the insulation is well done, your heating system doesn't have to work harder for it to heat your home and this will be a plus on your utility bills and frequency of repairs.
Many homes lose heat through the roof and the walls. Research indicates that some homes are losing as much as a quarter of their heat through the roof system and a third through the walls. This means any meaningful insulation should target these two areas in addition to doors, windows, and floors.
Loft Insulation
Insulating the loft is a surprisingly straightforward process and once you do it, it can stay intact for close to 40 years. The process involves laying down quilts which are insulation blankets across the roof surface. For the best results, go for quilts which measure 270 mm thick on the minimum. In case you have insulation already in place, check whether it meets the 270 mm threshold and in case it doesn't, top it up.
Some of the common materials for quilts include glass or mineral fiber and foil-backed felt. Some people prefer straw, cork, or wood boards which are also excellent green options.
Insulating Your Walls
A good number of houses especially those built after 1990 have wall insulation in place. However, if your home is a bit older, chances are it may not have wall insulation. Before installing insulation, you should first find out the kind of walls your house has. If it has cavity walls, you are lucky because there are among the easiest to insulate. Basically, cavity walls have gaps between them and they are common in homes that were built after the 1920s.
The other type of walls are solid walls and for this you have to place insulation either on the internal or external side so as to keep the heat in. they will cost you more than a cavity wall though the savings from your heating bills will be greater.
Timber-frame, steel-frame, or prefabricated concrete are some of the other walls that may require a specialist to first assess them and then insulate.
Floor Insulation
Proper floor insulation can saving you anything between $75 and $90 each year. If the house you live in is a little bit older and has suspended timber floors, specialists can lay mineral wool insulation between the joists to prevent heat from escaping. For newer homes with solid concrete ground floor, they require a much more rigid insulation if they are to see any improvement and savings.
Energy Efficient Windows
Installing double or triple glazing can serve to retain heat as well as minimize noise from the outside. As a matter of fact, homes that have energy efficient windows attract higher prices in the property market because of the value addition they bring.
Other areas to look at include pipework, doors, fittings, windows, and letter boxes because they can all create draughts if there are unwanted gaps present between these structures and your home.